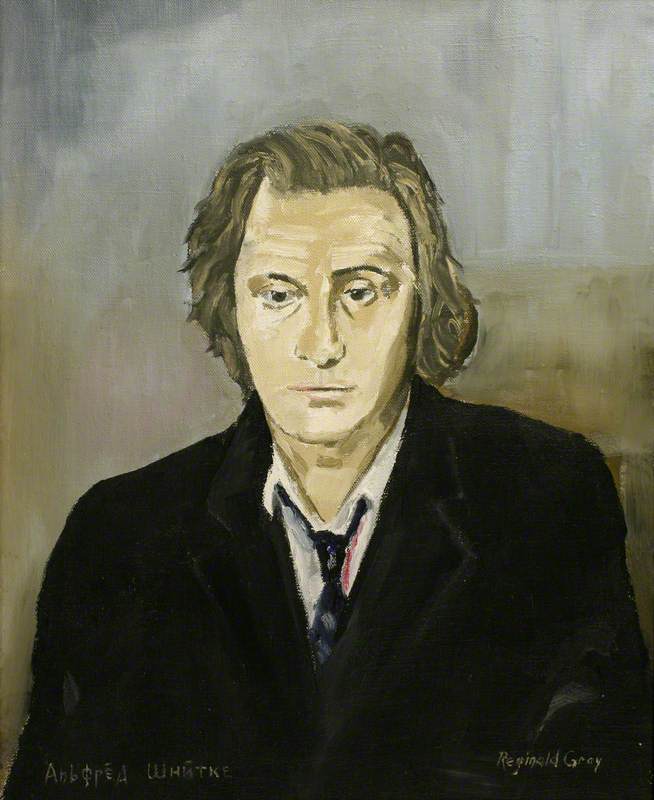 © the copyright holder. Photo credit: Royal College of Music
Painter, notably of portraits, born in Dublin, Ireland, where he studied at the National College of Art, his teachers including John Keating, Séan (John) O'Sullivan and Cecil ffrench Salkeld, from whom he learned Old Master techniques. Group shows included RHA; Irish Living Art Exhibition; Salon de Montparnasse, Paris; La Cour d'Albane, Rouen; and Caravan Gallery, New York. Among his solo exhibitions were Abbott and Holder; Galerie Marie de Holmsky and Irish Cultural Centre, both in Paris; there was a retrospective at UNESCO, Paris, 1994; and a show at Chelsea Old Town Hall in 2004. The film Reginald Gray – Portrait of a Portrait Artist, produced by Response Entertainment, New York, won 1st Prize at the city's 2001 Film Festival. Gray lived in London, 1957–62; moved to France, first to Rouen until 1964, in Paris until 2003; then returned to London, but retained his Paris atelier, working between the two capitals.
Read more
He was professor of painting at the Irish College, Paris, 1993–4. Gray was a full member of the American Society of Portrait Artists and painted notable subjects. These included the playwright Brendan Behan and writer Jill Neville, both 1957; painter Francis Bacon, 1960, National Portrait Gallery; writer Samuel Beckett, 1962, Trinity College, Dublin; and a second portrait of Bacon, 1988, UNESCO; and Laura Parker Bowles, 2003.
Text source: 'Artists in Britain Since 1945' by David Buckman (Art Dictionaries Ltd, part of Sansom & Company)