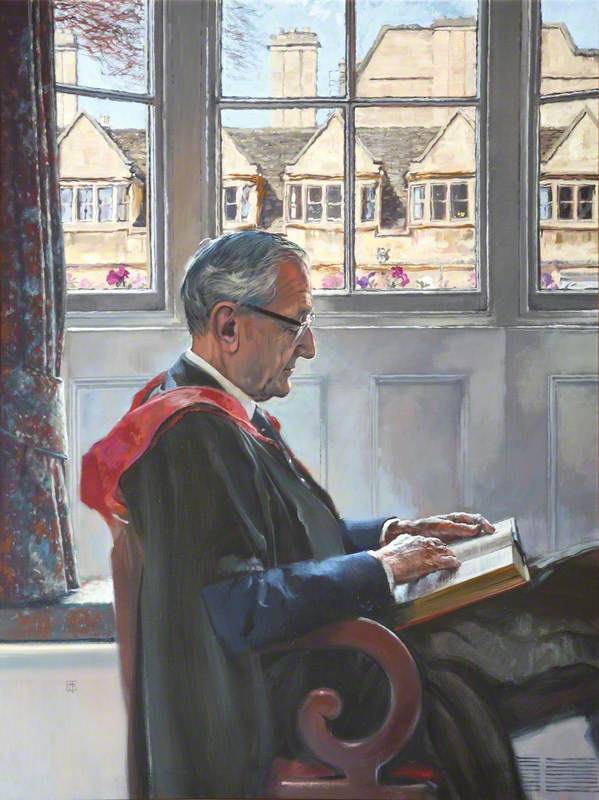 © the artist. Photo credit: Brasenose College, University of Oxford
Figurative painter and teacher whose work was "about the way we interact with one another and the world we each inhabit, using light and colour to highlight the drama, mystery and fragility of that interaction." Cobley was born in Northampton, where he did a foundation course in art and design at the School of Art, 1971–2, studying for his diploma (incomplete) at Liverpool College of Art, 1972–3, with Peter Prendergast. Cobley was a teacher of art and drama at the International School of the Sacred Heart, Tokyo, 1981–2, having graduated in comparative culture at Sophia University there, 1979–81. Was elected to RP in 1997, Bath Society of Artists, 2000, RWA, 2001, and NEAC, 2003, exhibiting widely in mixed shows elsewhere. Cobley was shortlisted for the John Player Portrait Award, 1989; gained the John Brandler Prize, 1993; and in 1999 won an award at Tom Rice Gallery in Dublin, Ireland, and a Public Prize and Daler-Rowney Prize, both at RWA.
Read more
Further awards included the Andrew Brownsword Prize, 2001, and Prosigns and Graphics Prize, 2002. He had solo exhibitions at Beaux Arts, Bath, in 2002 and 2004, one at Messum's in 2005 having an extensively illustrated catalogue. His many commissions included the actor Steven Berkoff; the ballerina Dame Alicia Markova; The National Society for Epilepsy; Royal Horse Artillery; Royal Engineers; Royal Marines, Royal Navy; and corporate collections. Lived in Bradford-on-Avon, Wiltshire.
Text source: 'Artists in Britain Since 1945' by David Buckman (Art Dictionaries Ltd, part of Sansom & Company)