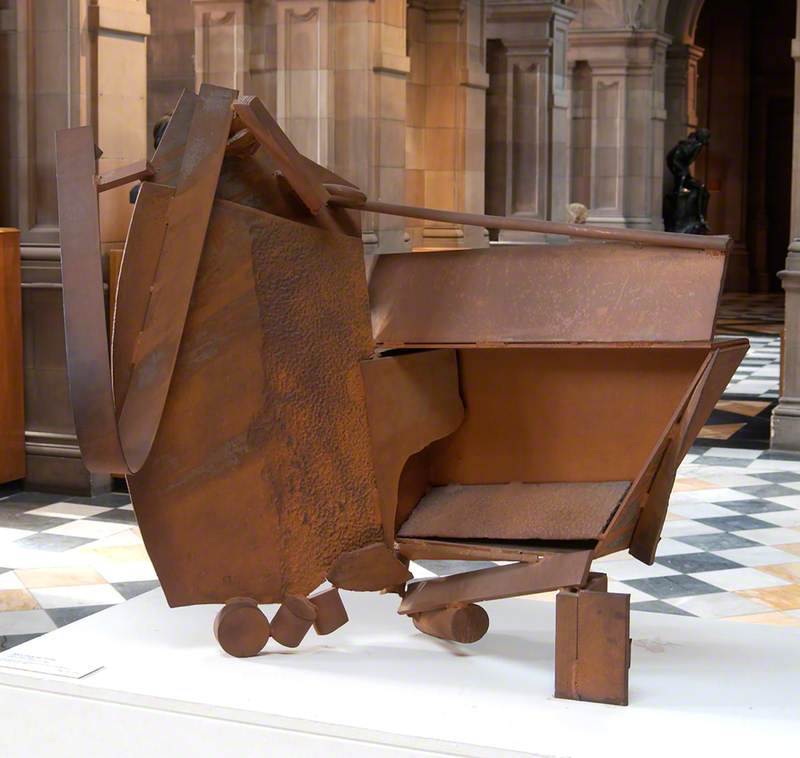 © The Estate of Anthony Caro. All rights reserved, DACS 2022. Photo credit: Glasgow Life Museums
Sculptor and teacher, born in London, married to the painter Sheila Girling, their son being the artist Paul Caro. After studying engineering at Cambridge University, 1942–5, Caro studied sculpture at Regent Street Polytechnic, 1946, then at the Royal Academy Schools, 1947–52. He worked as a part-time assistant to Henry Moore, 1951–3. From 1952–79 Caro taught at St Martin's School of Art, a dynamic period in which it was said that his students learned "not a style, not a dogma, but a discipline of doubt and enquiry". Also taught at Bennington College, Vermont, in mid-1960s. Caro's first one-man show was at Galleria del Naviglio in Milan in 1956. Then showed at Venice and Paris Biennales and elsewhere worldwide. A retrospective was held at Museum of Modern Art, New York in 1975 with tour; there was a large Tate Gallery exhibition in 1991–2 which showed that although Caro had become famous for bolted and welded steel and aluminium sculptures which were light and graceful he was later capable of monumental works such as After Olympia; in 1994 a seventieth birthday retrospective was held at Annely Juda Fine Art; in 1995 a major show being held at Tokyo's new Museum of Contemporary Art; in 2001, a retrospective and workshops at the Town Hall, Lewes, Sussex.
Read more
Caro's initial work was figurative in lead and bronze, but 1959 saw a change to non-figurative pieces, his 2003 show at Annely Juda, The Barbarians, being a return to figuration, comprising six warriors as an anti-war protest. In 2004 there were Caro displays at Kenwood House and The Orangery Gallery in Holland Park and in 2005 Tate Britain held a major Caro retrospective, coinciding with the artist's eightieth birthday. He was knighted in 1987, Order of Merit, 2000. In 1996 Caro was part of a team, that included the architects Sir Norman Foster and Partners and the engineers Ove Arup and Partners, which won an international design competition for a new pedestrian bridge to link St Paul's Cathedral to the new Tate Gallery of Modern Art at Bankside and the Globe Theatre. The Tate, the Arts Council and other major collections hold Caro's work.
Text source: 'Artists in Britain Since 1945' by David Buckman (Art Dictionaries Ltd, part of Sansom & Company)